Get A Safety & Health Program For Your Business
How To Create A Construction Safety Plan
29 CFR 1926.20(b)(1) requires construction employers to have an accident prevention program. You are here - which means you are ready to get started. Terrific! We've put together this guide which will provide everything you need to establish a written accident prevention program for construction.
Questions? Click to chat or give us a call at 1-888-213-0432.
Review The OSHA Small Business Handbook

The OSHA Small Business Handbook is a great way to get started with your safety program. It will walk you through the basic requirements, provides self-inspection checklists, and helpful guidance. Most importantly, it's free!
OSHA Requirements For Most Construction Employers

These OSHA rules apply to most construction employers. Download the checklist to help identify areas for you to focus on.
Falls & Working At Heights
Identify and eliminate fall hazards. For fall hazards that cannot be eliminated, provide fall protection equipment, training, and a rescue plan.
Any workplace were employees are six feet or more above a lower level, or are at risk of falling into hazardous equipment.
Fire, emergency evacuation, and emergency action plans must be developed for all foreseeable emergencies.
Provide safe stairway and ladder systems. Train employees on safe ladder use.
When stairways and ladders are used on the jobsite.
Identify potential electrical hazards. Provide electrically safe equipment and protection devices. Provide electrical PPE when required. Train employees on management of electrical hazards.
When employees are exposed to potential electrical hazards or use electrical equipment.
Design trenches and excavations in accordance with requirements. Provide trench protection systems. Train employees on safe trenching and excavation practices.
When employees work in or around trenches and excavations.
Motor Vehicle Safety / Highway Work Zones
Develop and provide traffic management safety plans as required. Provide high visibility garments. Protect employees from traffic hazards.
Where employees operate vehicles on the jobsite or work in or near highway work zones.
Identify Specific Job Site Requirements

These safety regulations apply to many construction companies.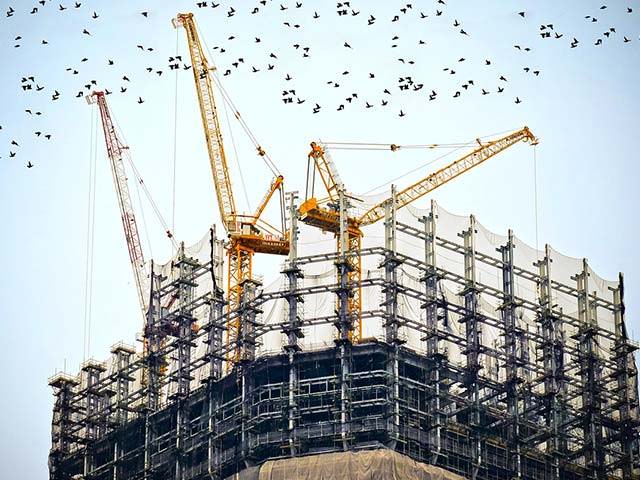 Provide properly designed scaffolding systems. Train employees to work safely on scaffolding and scissor lifts.
Where employees perform work on scaffolding or scissor lifts.
Create a written hazard communication program. Provide safety data sheets. Label chemicals in the workplace. Inform and train employees on hazard communication communication methods and hazardous chemical use.
Any business where employees use hazardous chemicals.
Provide safe hand and power tools. Train employees on inspection and use.
When workers use hand and power tools.
Respirable Crystalline Silcia
Create a written silica exposure control plan. Perform silica exposure monitoring. Provide silica engineering controls and PPE as required. Train employees on silica hazards and protection from those hazards.
Any business with hazards that cannot be eliminated with substitution of materials, engineering controls, or work practices.
Concrete & Masonry Construction
Evaluate the capacity of a concrete structure before placing loads on it. Guard equipment against impalement. Keep employees clear of tensioning operations. Provide PPE as required.
Where employees are involved in concrete and masonry construction.
Cranes, Derricks, Hoists, Elevators & Conveyors
Provide safe and appropriately rated equipment. Train employees on inspection and use of equipment.
When lifting, hoisting, or conveying equipment is used.
Use a permit entry system for confined spaces, perform confined space monitoring, provide for rescue, and train employees.
When employees enter spaces that are large enough for an employee to enter, have limited means of entry or exit, and are not designed for continuous occupancy.
Welding, Cutting, and Brazing
Use appropriate equipment. Implement fire prevention measures and fire watches as required.
When welding, cutting, and brazing is performed.
Develop site layout and site specific erection and construction plans. Perform steel erection work in accordance with requirements. Protect employees from hazards of steel erection.
When employees perform steel erection work.
Start a Written Construction Safety Plan
Document your OSHA required Accident Prevention Program with the Construction Safety and Health Program. It is a easy to use and professional template that covers the major OSHA requirements for construction companies. It includes a site specific safety plan template.
Construction Safety and Health Program
The Construction Safety and Health Program will you get you quickly started on a construction accident prevention program. It includes a basic construction safety plan, and all the items listed in Part 2 - OSHA Requirements For Most Construction Employers. Contents include:
Basic Safety & Health Program
Injury & Illness Recordkeeping
Vehicle & High Work Zones
Safety Program
Awesome Program I was able to set up a great OSHA approved program in no time for our painting Company Highly Recommended!!! Thanks Guys Keep up the good work.
Jodean Conley
8/13/2018
5 Star
This product was perfect for us! We were able to revise and add/delete items tailor to our line of construction easily without any problem. Thanks for the help in fulfilling our construction specs submittal on time.
Tony Togiai
4/17/2017
The Answer To My Headache
I just scored this job in the Solar Industry. Great Job with lots of new things to learn and lots of challenges. One specific challenge was put together a Health and Safety binder that was OSHA approved......what???? so after much research I found XO Safety and I could not have been happier. Support was offered but I never needed it. Everything was very clear and the product was superior to the other products I looked at. Thank you XO
Karen Agnello
12/18/17
Free Construction Safety Program Templates
Note: These programs are free and available to the public. They are not owned or endorsed by XO Safety.
Michigan Licensing & Regulatory Affairs Accident Prevention Program for Construction
Texas Workers Compensation Commission Sample Written Program
NASA / Jet Propulsion Laboratory Sample Construction Safety Plan
Wyoming Workforce Construction Safety and Health Program
Use The OSHA Recommended Practices For Construction Safety Plans
The Recommended Practices for Safety and Health Programs in Construction is a great reference guide for establishing a compliant and effective program.