Free Construction Safety Plan Templates
Note: The programs are publicly available and not owned or endorsed by XO Safety.
Construction Safety & Health Plan

Need a polished construction safety plan quickly? Check out the Construction Safety & Health Program. This construction program covers all the major OSHA safety subjects, and is available for immediate download.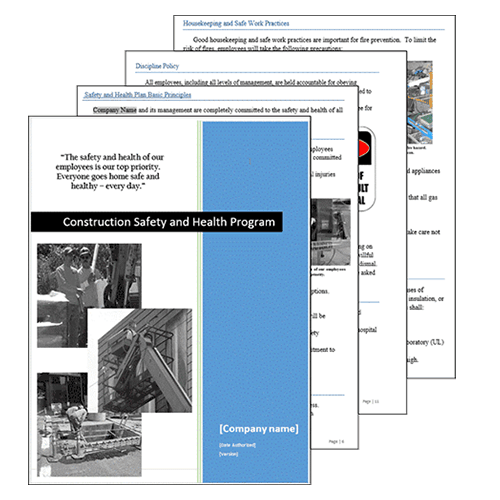 Accident Prevention Program for Construction
---
The Michigan Department of Licensing and Regulatory Affairs offers this free construction accident prevention program. This program is in Microsoft Word and is 32 pages long.
Construction Safety Program
---
This sample safety program is from the Texas Workers Compensation Commision. It is designed for both Construction and General Industry. It is in Microsoft Word and is 17 pages.
---
NASA and the Jet Propulsion Laboratory put together a comprehensive and well organized construction safety plan template for its subcontractors. It is well organized. The program is 25 pages and is provided in Microsoft Word.
Construction Safety and Health Program
---
The Wyoming Department of Workforce Services provides this 29 page Construction Safety Plan Template in Microsoft Word.