This course covers all the ANSI and OSHA training requirements for scissor lift operation.
30 day money back guarantee. If for any reason you are not satisfied, just let us know.
Click to chat, call us at 1-888-213-0432, or send an email to sales@xosafety.com.
Scissor Lift Training Options
The Scissor Lift Train The Trainer Course will teach you everything you need to know about certify scissor lift operators. It includes suggested training materials and certification forms.
Will This Certify Me As A Trainer?
Will this certify me to be a scissor lift trainer?
---
This course, by itself, will not certify you as a trainer. It provides the required training, but it is UP TO THE EMPLOYER to determine who meets these requirements. This course includes a trainer designation form you can use to designate trainers.
Is This Course Live? Will It Save My Progress?
Is this course live? Will it save my progress?
---
This course is provided by a real instructor via videos, readings, and other interactions. You can ask the instructor questions via the message boards. The course is not "live", although the instructor usually responds quickly. Your progress will be saved. You do not have to take the course in one sitting.
---
There is no expiration or required retraining for the scissor lift train the trainer course. Scissor lift trainers are designated by the employer. As long as the employer determines the instructor is qualified, they can remain a scissor lift trainer.
Scissor Lift Train The Trainer
Everything You Need To Certify Scissor Lift Operators
Scissor Lift Train The Trainer Instructions
Everything You Need For Designating a Scissor Lift Trainer and Certify Employees
Step 1 - Designate A Scissor Lift Trainer
Question: Does A Scissor Lift Trainer Require A Certification To Train Scissor Lift Operators?
Answer: No - OSHA grants the employer the authority to designate trainers based on who they believe is qualified. No outside training or designation is required.
Scissor lift trainers must be:
"Delivered by a qualified person who is experienced with the particular classification of MEWP and knowledgeable regarding the laws, regulations, safe use practices, manufacturers requirements, and recognition and avoidance of hazards associated with MEWPS."
Best Practice: Designate a Scissor Lift Trainer in writing.
OSHA does not require employers to designate trainers in writing, but it is an excellent work practice.
---
Step 2 - Review The Regulations
Fun Fact: Did you know that scissor lifts are not considered aerial lifts by OSHA? The Occupational Safety & Health Administration classifies scissor lifts as mobile scaffolding, and scaffolding regulations apply to this type of vehicle. However, ANSI considers a scissor lift to be a Group A Mobile Elevated Work Platform.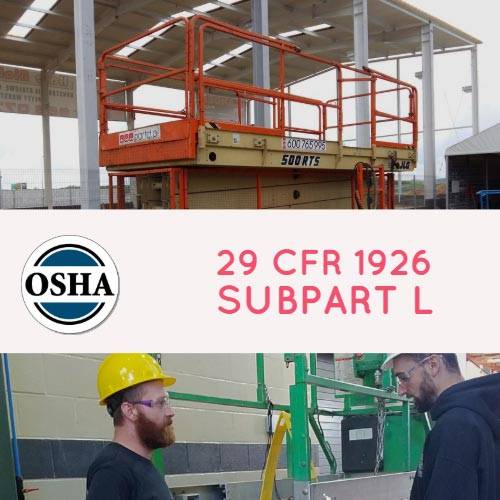 ---
Step 3 - Conduct Training
Operators must be trained on the following subjects:
Electrical hazards
Managing electrical hazards
Maximum intended load
Fall hazards
Use of fall protection
Scissor lift capacity
Use of scissor lift
Handling materials on a lift
Requirements of Subpart L
Operators must be trained and evaluated on the actual vehicle they will be operating.
---
Step 4 - Reevaluate Scissor Lift Operators
Scissor Lift Operators must be reevaluated when:
New hazards are introduced to the work area.

There is a change of equipment, fall protection, vehicle type, or other items that the employee was not previously trained on.

When the employee has been observed operating unsafely.

As required by the company.