This course covers all the operator training requirements from 29 CFR 1910.178 - Powered Industrial Trucks.
30 day money back guarantee. If for any reason you are not satisfied, just let us know. We will refund your money, no questions asked.
Click to chat, call us at 1-888-213-0432, or send an email to sales@xosafety.com.
XO Safety Academy's Forklift Train The Trainer Course includes forklift operator training. This ensures that all trainers are familiar with the regulations and forklift operational safety.
The Forklift Train The Trainer Course includes everything instructors need to know about training and certifying forklift operators. This ensures that they have the "knowledge and training" required by 29 CFR 1910.178 to certify forklift operators.
The Forklift Train The Trainer Course includes all the materials and documentation you need to train and certify forklift operators. Hands on operator evaluation forms are included.
"I purchased multiple seats to this class for our training consortium and got great feedback from the participants!
Very impressed with the material in the videos and felt like it kept my attention.
It was just a good over all mix of info.

- Michele Shore
Farmington, MO
"All the tools needed for a large company to start program. Very fast customer service!!"
Robert Langdon
Racine, WI
"The course is put together very well and will assist the staff with staying fresh with forklift safety. Thanks."
Michael Payne
Houston, TX
"This was a highly informative and enjoyable training video. The assets provided with the purchase also absolutely make life easier for a safety professional."
John Azar
Queens, NY
"Exceptional training. Nice format with current references. Great for new trainers as well as suitable for veteran trainers as well."
Jeff Hockenberry
"Excellent course, with great coverage of how to train and keep the attention of your trainees. Good information on accidents, how they can happen, and ways to prevent them."
Jerry Taylor
Lewistown, PA
Forklift Train The Trainer Course Outline
Forklift Operator Safety Principles
---
Basic Forklift Principles

Pedestrians and Forklifts

The Importance Of Operator Manuals

Inspections

Vehicle Operations

Lifting, Moving, and Placing Loads

What To Do For A Forklift Tip Over

Recharging and Refueling
---
Training Requirements of 29 CFR 1910.178 - Powered Industrial Trucks

Forklift Trainer Experience Requirements

Evaluating Operators

Forklift Operator Training Materials

Forklift Operator Quizzes

Evaluation & Documentation Forms
---
Formal Training Tips

How To Develop A Training Curriculum

Setting Up A Formal Training Environment

Training Forms
Forklift Train The Trainer FAQs
Will This Certify Me As A Trainer?
Will this certify me to be a forklift trainer?
---
OSHA 29 CFR 1910.178(l)(2)(ii) states that "All operator training and evaluation shall be conducted by persons who have the knowledge, training, and experience to train powered industrial truck operators and evaluate their competence."
This course, by itself, will not certify you as a trainer. It provides the required training, but it is UP TO THE EMPLOYER to determine who meets these requirements. This course includes a trainer designation form you can use to designate trainers.
Is This Course Live? Will It Save My Progress?
Is this course live? Will it save my progress?
---
This course is provided by a real instructor via videos, readings, and other interactions. You can ask the instructor questions via the message boards. The course is not "live", although the instructor usually responds quickly. Your progress will be saved. You do not have to take the course in one sitting.
---
There is no expiration or required retraining for the forklift train the trainer course. Forklift trainers are designated by the employer. As long as the employer determines the instructor is qualified, they can remain a forklift trainer.
Forklift Train The Trainer
Everything You Need To Certify Forklift Operators At Your Facility.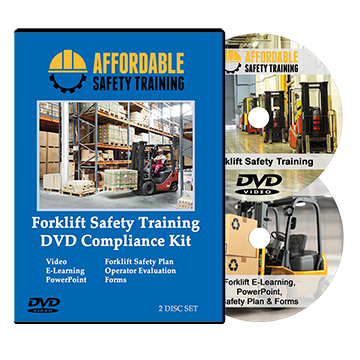 Forklift Training Options
XO Safety has great training options for Forklift Operator Safety. Train your employees to properly operate a Forklift safely.
Satisfaction guarantee ●  Free 30 days return  ●  OSHA Compliant