Hazard Communication Program
OSHA Compliant Hazard Communication Program
OSHA COMPLIANT HAZCOM TRAINING
30 DAY MONEY BACK GUARANTEE
DEVELOPED BY CERTIFIED EXPERTS
Can the hazard communication program be edited?
Who can train employees on hazard communication?
The employer can designate an employee they feel is sufficiently knowledgeable to train employees. 29 CFR 1910.1200 - Hazard Communication does not list any specific required qualifications to train employee on HazCom.
However, the usual standard OSHA is someone who has the knowledge, training , and experience to identify hazards and teach employees how to manage them. We recommend designating your trainer with the included Trainer Designation Form.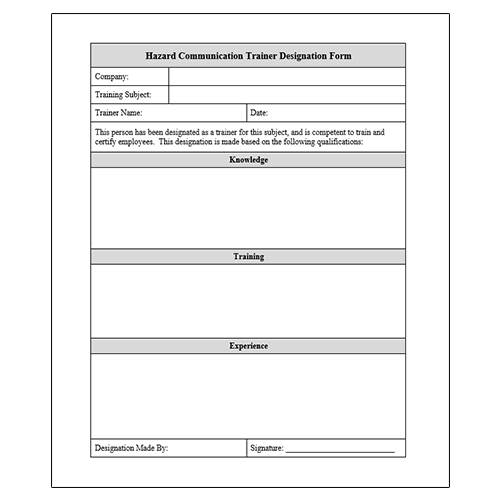 Yes. The training materials and the written Hazard Communication Program address the requirements of the Globally Harmonized Standard that was implemented in 2012.
The Hazard Communication DVD Compliance Kit includes the pictograms and a GHS label template.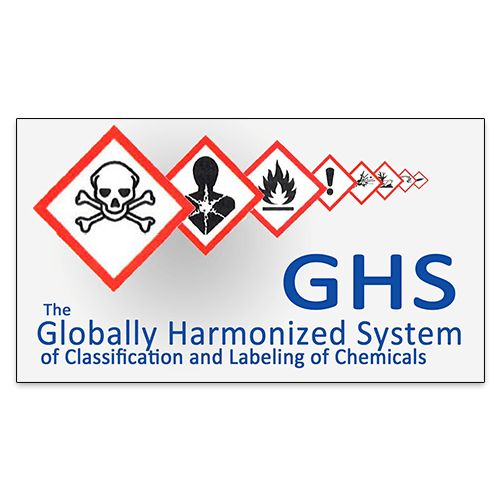 Is the hazard communication training OSHA compliant?
Yes. The Hazard Communication Compliance Kit written to the training requirements of 29 CFR 1910.1200(h)(3). The video, e-learning module, and PowerPoint cover the required learning subjects, and the Hands On Certification Form will walk the trainer and employee through the work area specific requirements.
These training requirements are:
Ways to detect the release of hazardous chemicals.
The hazards associated with chemicals in the work area.
Measures employees can use to protect themselves from chemical hazards.
Details of the company hazard communication program.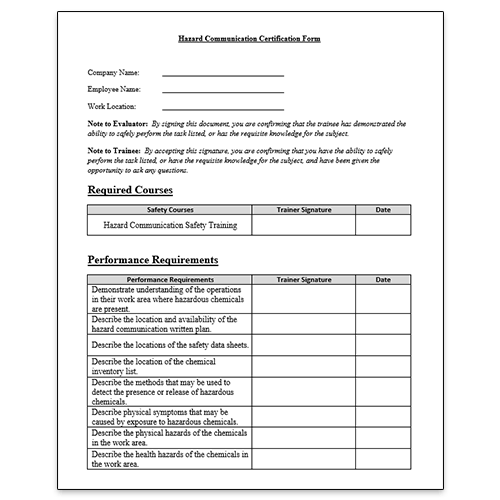 Hazard Communication Program Contents
The Hazard Communication Program Policy includes:
Management & Employee Responsibilities

Chemical Container Labeling

Chemical Labeling

GHS Labeling

Safety Data Sheets

Hazardous Non-Routine Tasks

Chemicals in Pipes

Training Requirements

Contractor Requirements

Program Evaluation
Love XO's HazCom Program Template
CO Safety's templates are not only OSHA compliant, but easy to customize. I'd strongly recommend these templates to all my clients.
Dale K
For Our Warehouse
Downloaded it immediately and it only took a few minutes to update. After completing the chemical inventory, we were all fixed up.
John Cassa
Very Helpful
This package includes a lot of great information. I wish we had purchased it sooner as it would have saved a lot of work we were putting into trying to develop our own training program from scratch.
Jake Guzman
Hazard Communication Training Options
The Online Hazard Communication Train The Trainer Course includes everything instructors need to know about training and certifying workers on hazard communication and identifying chemical hazards in the workplace. This course includes required forms and documentation for training.
The Hazard Communication Training DVD Compliance Kit contains everything you need to train and certify employees on the communication of chemical hazards in the workplace. It includes a HazCom video, E-Learning Module, PowerPoint, Safety Plan & certification forms.
Hazard Communication Training DVD Compliance Kit
Hazard Communication Training
Everything you need to train and certify workers on Hazard Communication & GHS. This kit includes a Training Video, E-Learning Module, PowerPoint, Safety Plan & Certification Forms. It can be used for all types of MEWPs.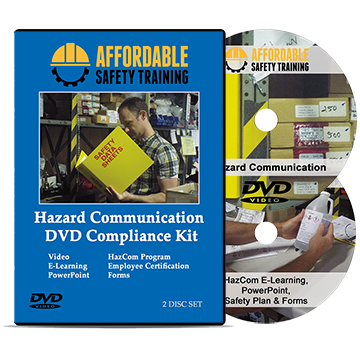 Hazard Communication Training Options
XO Safety Has Great HazCom Training Solutions For Your Business